Upper Poulton Lake Project
Zadar has an option to acquire a 100% interest in the Upper Poulton Lake project (2,730 hectares) which lies ~21km SE of the Cigar Mine. Adjoining property holders include Denison Mines Corp. and Purepoint Uranium Group Inc. Geology at Upper Poulton Lake is dominated by the NE-trending Bird Lake Reverse Fault. Historically, drilling has focused on the Bird Lake Fault which does not have a clear geophysical electromagnetic response. A large, 2.5 km wide illite, U and Pb-enriched boulder train partly covers the trace of the fault as well as a portion of an adjacent magnetic high. The primary targets are a series of northeast trending electromagnetic anomalies residing within a magnetic low, identified through a GEOTEM airborne survey by Cameco Corp. in 2004.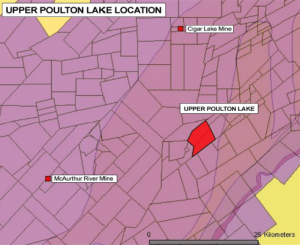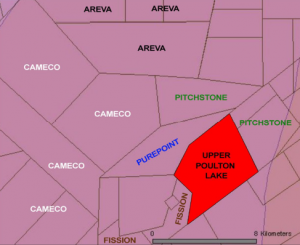 The technical information contained within this website has been reviewed and approved by Vice-President Exploration, Kieran Downes, P.Geo., a qualified person as defined by NI 43-101.