WSP LITHIUM PROJECT
The WSP LITHIUM PROJECT is located in the northern Clayton Valley, immediately adjacent to the Rockwood Lithium Mine and Processing Plant in Silver Peak, Esmeralda Country, Nevada, North America's only Lithium Production operation. The WSP Claim block cover 425 hectares of ground permissive to host brines containing elevated concentrations of lithium. A USGS test drillhole (CV-2) located ~600m from the eastern claim boundary reported a 55ppm Li maximum content from analyzed water samples.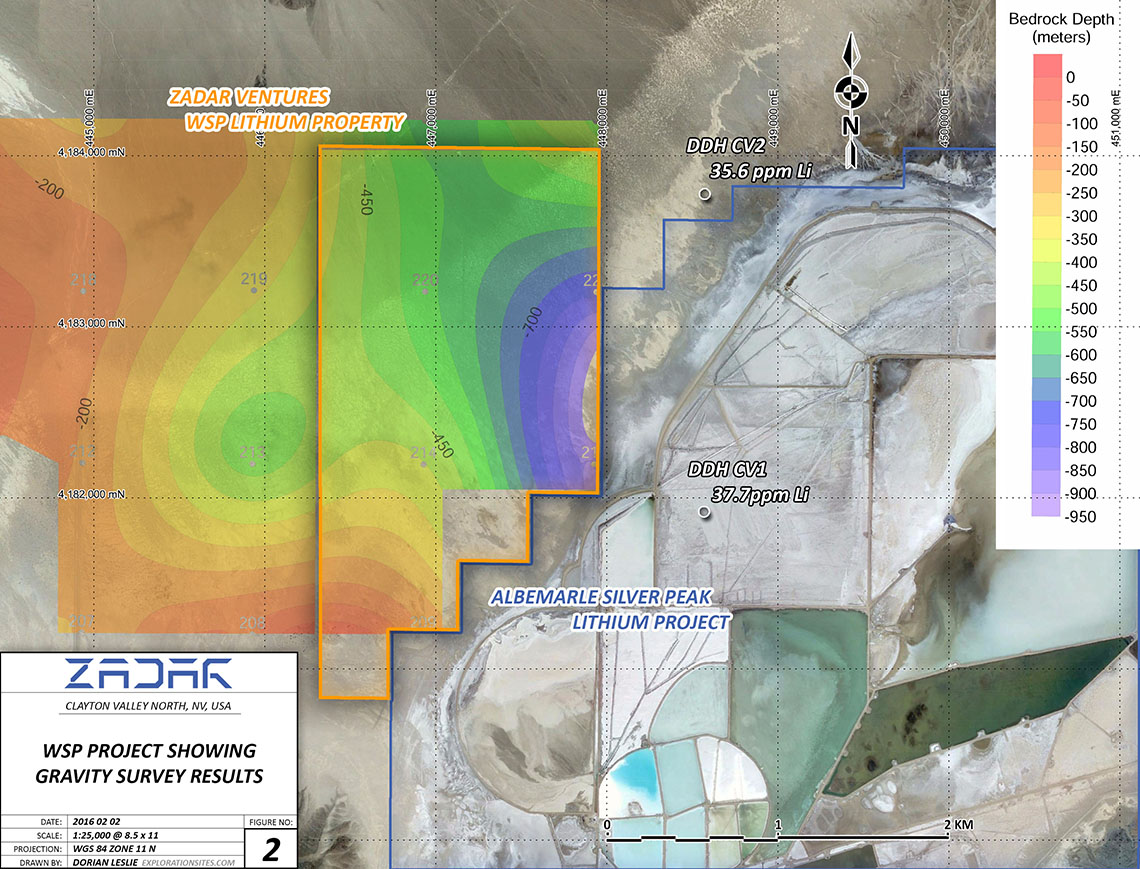 Clayton Valley is one of several major intermontane basinal depressions within the Nevada Basin and Range physiographic province. The Clayton Valley Basin has a northeast to southwest strike and is located between the Paymaster Ridge (East) and Mineral Ridge (West). The Tertiary rocks in the area are mostly widespread pyroclastic material in ash-flow sheets with a silicic to intermediate composition. The older tuff sheets are middle Oligocene aged and crop out on the flanks of Mineral Ridge and Montezuma Peak. The Clayton Valley Basin is filled with Pleistocene alluvial material locally, which can be over 1 kilometer in thickness, and in turn is capped with a veneer of Holocene sediments.
The Tertiary volcanics in the area are interpreted to be the primary source rock for the lithium in the Clayton Valley system, as their higher elevation location has affording the lithium in solution to migrate to the closed Clayton Valley Basin where the lithium ponds in the confined aquifer within the basin.
Zadar intends to develop the WSP Claims via the delineation of the underlying anomalous lithium layers that are described in United States Geological Survey and Nevada Bureau of Mines reports. Preliminary gravity and electromagnetic surveys have already been conducted over the claim areas and have proven reliable tools to delineate the target lithium layers with the claim block. Prior to drill testing the inferred lithium layers Zadar will conduct more detailed geophysical surveys to more adequately define the basin shape and target depths. Upon completion of the geophysical programs a diamond drilling program will be conducted to provide in situ samples of the basinal water within the claim block. Lithium grades within the brines would be determined upon completion of the drilling program.
The technical information contained within this website has been reviewed and approved by CEO & President Paul D. Gray P.Geo., a qualified person as defined by NI 43-101.